Agents of Change —
Our Vision for the Future
Last year was remarkable for Instrument. It was another year of evolution and optimization, proving what can happen when all systems are operating at peak health: We helped some of the world's largest brands solve some of their toughest design and technology challenges.
At the beginning of this year, we started asking ourselves some tough questions: "Can we have more meaningful impact for our clients? On the world? What obstacles are in our way?" Ultimately this led to a surge of ideas and excitement for the future. In the past few months, we've put a lot of time and energy into crafting a clear vision for where we go from here.
In short, it's all about providing ever more meaningful value for brands and users. We're deepening our commitment to solve real human problems, leveraging design and technology to be agents of change.
More meaningful impact
Our work is our best expression of what matters to us. It will always be our number one focus. A decade ago, branded digital experiences were one-dimensional and locked into the desktop format. We were there to help bring brands like Nike, Google and Stumptown Coffee Roasters into a new device-inclusive era. Five years ago, when the term "content marketing" started building buzz, we were helping Levi's orchestrate a multi-channel, mobile-first content campaign, including the very first branded VSCO partnership and collaboration with a team of fifty mobile photographers. Our clients have come to expect us to be ahead of the curve on all things digital, connecting smart strategies to emerging platforms and products.
This year, we partnered with Google incubator Jigsaw and The New York Times to leverage a series of machine learning models to facilitate better conversations online. We helped Dwell transform their highly-regarded print magazine into a digital platform and mobile app ecosystem. We're working closely with PATH, a global health NGO, to leverage technology in their mission to create open-source solutions to some of the world's most pressing needs. And we're helping our long time partner Nike use data to deliver more premium, personalized digital experiences straight to customers.
Today, we work with ambitious leaders who are building what's next in platforms, experiences, products and services. They lean on us to help them achieve breakthroughs and solve deep problems through human-centric design and technology innovation. The work we do has evolved every year, responding to outside influences like market fluctuations and shifts in technology and culture, as well as our own hunger to have a more meaningful impact in the world. We're a long way from where we started, and we're on the cusp of other significant leaps forward.
The hard work of innovation
Doing better work means always working on our own organization. From day one, we've been relentless in fueling creativity and innovation within Instrument, experimenting with new ways to reinforce our values and optimize financial performance. This drive to re-think and re-invent is woven into the fabric of our company.
For example:
We pioneered a distributed teams model, essentially creating a network of multidisciplinary micro-studios within Instrument's overarching support structure that enables flexibility and provides dedicated partnerships to our clients.
We built our own custom software application for financial forecasting and team planning. The tool gives us a real-time pulse on the health of our business, allowing us to spot potential problems and make data-driven decisions at any given moment. A nice side effect was the ability to do away with time tracking for our teams.
We formed an in-house content-creation practice five years ago to create more connected, meaningful digital experiences. It's now a core component of everything we do. Our dedicated team of writers, directors, editors, animators and producers work in our studio and around the world, creating compelling brand and product stories that resonate with users.
We reimagined Human Resources with our Human Development model that focuses on growth for our employees as whole humans, rather than just assets — facilitating 1-1 guidance, group workshops, and skill-specific programs in areas like leadership development, conceptual thinking, the art of influence and more. As World Economic Forum Chairman Klaus Schwab points out, "Capital is being superseded by creativity and the ability to innovate — and therefore by human talents." We firmly believe that whole, healthy and inspired people do better work.
Finally, last year we moved into our new space, a 40,000 sq. ft. sandbox purpose-built for collaboration. This was a tricky (and risky) endeavor — but it's the kind of risk we're willing to take to propel the company forward.
Some of these developments were small iterations, and others (like adding new disciplines or systems) were huge leaps. Tony Davila and Marc Epstein define these two types of innovation ("incremental" and "breakthrough") in their book, "The Innovation Paradox." Their point is that the biggest challenge — the most difficult to achieve consistently — is balancing both types at once: A focus on one often comes at the cost of the other. This is the innovation paradox.
The fact is, coming up with innovative ideas is easy. Seeing them through is hard. It takes clarity and persistence and force to overcome the organizational weight that gets in the way. This is something we've always done, but moving forward, we're bringing new levels of intentionality to breakthrough innovations while also constantly evolving our business incrementally. It's a formal part of our vision for the future of Instrument.
Shaping the future
Organizations need to push boundaries now more than ever. We're living in what Thomas Friedman calls the "era of accelerations," where technology is advancing so fast that most businesses are constantly behind the curve. The World Economic Forum has spoken about the Fourth Industrial Revolution, poised to radically change the way people will live and work — and how businesses will operate.
Transportation will go through a series of huge changes as new technologies overturn our current approaches to fuel, urban infrastructure, shipping, air travel and even driving. Healthcare will see shifts we can hardly imagine, as technology and design open up new opportunities for patients to connect with their personal health data and for researchers to apply machine learning to huge amounts of information, connecting dots and discovering new treatments and cures. Travel and Hospitality have already been shaken up heavily as users gain immense control over the booking experience. That will continue as competition intensifies and companies adapt to changing behaviors. The list of industries set for major changes goes on and on.
Our clients face different types of challenges based on their relationship to technology. They generally fall into two camps: native technology brands and traditional brands. Each needs to innovate in different ways to make the most of the changes ahead.
Native technology companies are highly mobile, distributed and agile. Many were built on a major breakthrough innovation. The challenge they face is to take what they've built and grow it on a global scale, making their products and services accessible to as many people as possible while maintaining trust. In addition, as technology leaders are transforming our economy, many are also considering the long-term societal impact of their decisions. With governments and public opinion increasingly attuned, all eyes are on these companies to foster a more stable economy and united society.
We are great partners for these brands because we understand them. Because we are also a native technology company. We run at the same pace, working side-by-side with them and sharing information, ideas and tools. We're unique in that we have one foot in the brand side and one in the product side. This allows us to help bridge the gap between brand aspiration and highly considered front-end consumer experiences.
Traditional companies, on the other hand, often have an offering that was successfully built at scale on an increasingly obsolete model. The internet was, in many cases, not in their wildest dreams, or at least wasn't factored into the business model. A bright future is possible for these companies, but to achieve it they need to lean hard into adopting a culture of innovation and find ways to adapt while staying true to their mission. They need to use their assets and capabilities differently, transforming their core businesses and developing new revenue opportunities.
These companies need us because we embody the entrepreneurial spirit that they need to spark within themselves. Because we know that innovative ideas are only valuable if they become real. Because we can help them navigate the complexity of innovation, define a new vision for the future and bring the entire customer journey to life.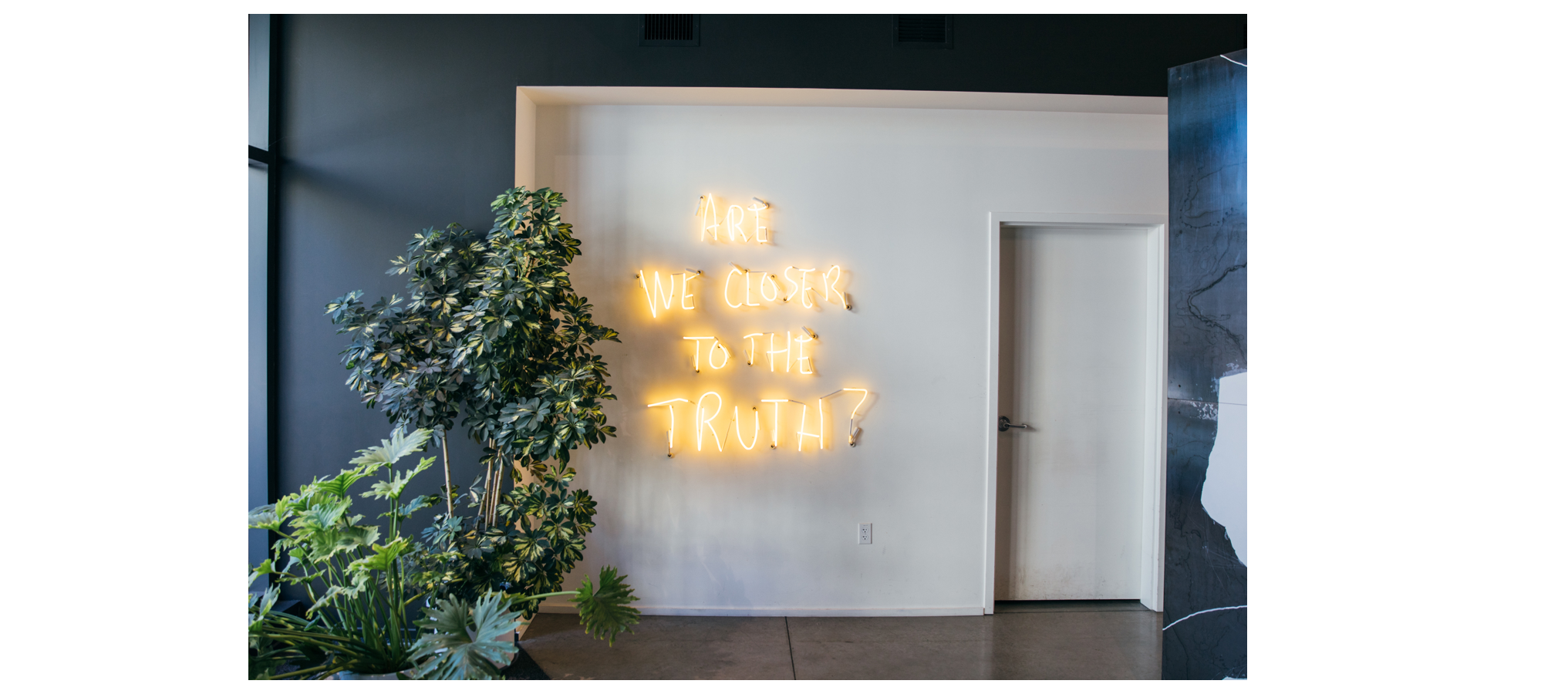 Every company, whether traditional or native tech, started with a truth: a clear purpose and set of beliefs. But it's very difficult to tie that truth to the end user experience. Every detail of a brand experience — from the very first moment a user engages down to the last checkout button or confirmation email — has the opportunity to either connect or disconnect from the brand truth. It's our job to make sure it connects at every stage of the journey.
Looking ahead
Our vision for the next decade begins where Instrument started in the first place. We're doubling down on our roots — on creative and technological innovation. And it's informed with clear purpose — to solve difficult, human problems that make a difference in the world.
We've never been a company motivated by glory or fanfare. You won't find us at award shows — our leadership team voted years ago to opt out of them altogether, and we've never looked back. We've also never been interested in technology for technology's sake. We've been heads down, applying art and science to solving complex problems for human needs.
This year you will find us building a new lab space for innovation workshops, events and classes. You'll find us researching, writing and exploring emerging technologies and how they will impact human things like communication, connectivity, commerce. You'll find us refining our data science and testing practices, leveraging data and insights to create personalized experiences. You'll find us evolving our strategy discipline, expanding our immersive research, business strategy, forecasting, and technology planning capabilities. All while continuing our pursuit in cultivating the best talent and honing our executional craft.
You'll also find us creating measurable value with purpose-driven organizations and companies who have an impact in areas like food, health, wellness and education. Products and services that are connected to human needs in industries like transportation, productivity, travel and financial services.
We believe in using the power of design and technology to be agents of change. These are our superpowers, and we intend to use these powers for good.
Written by JD Hooge
Edited by Trevor Orton & Amie Pascal