The Cookie Shop —
Four Months of Virtual Reality

 
Getting Started
We grabbed all the devices we could get our hands on: Google Cardboard, Samsung Gear VR, Oculus Rift, HTC Vive and Microsoft HoloLens. We invited every employee for a VR 101 class to explore the many uses of VR—from education to training to entertainment. We discussed the differences between Virtual Reality, Augmented Reality and Mixed Reality, trying out the latest experiments while imagining what this medium could do in the future.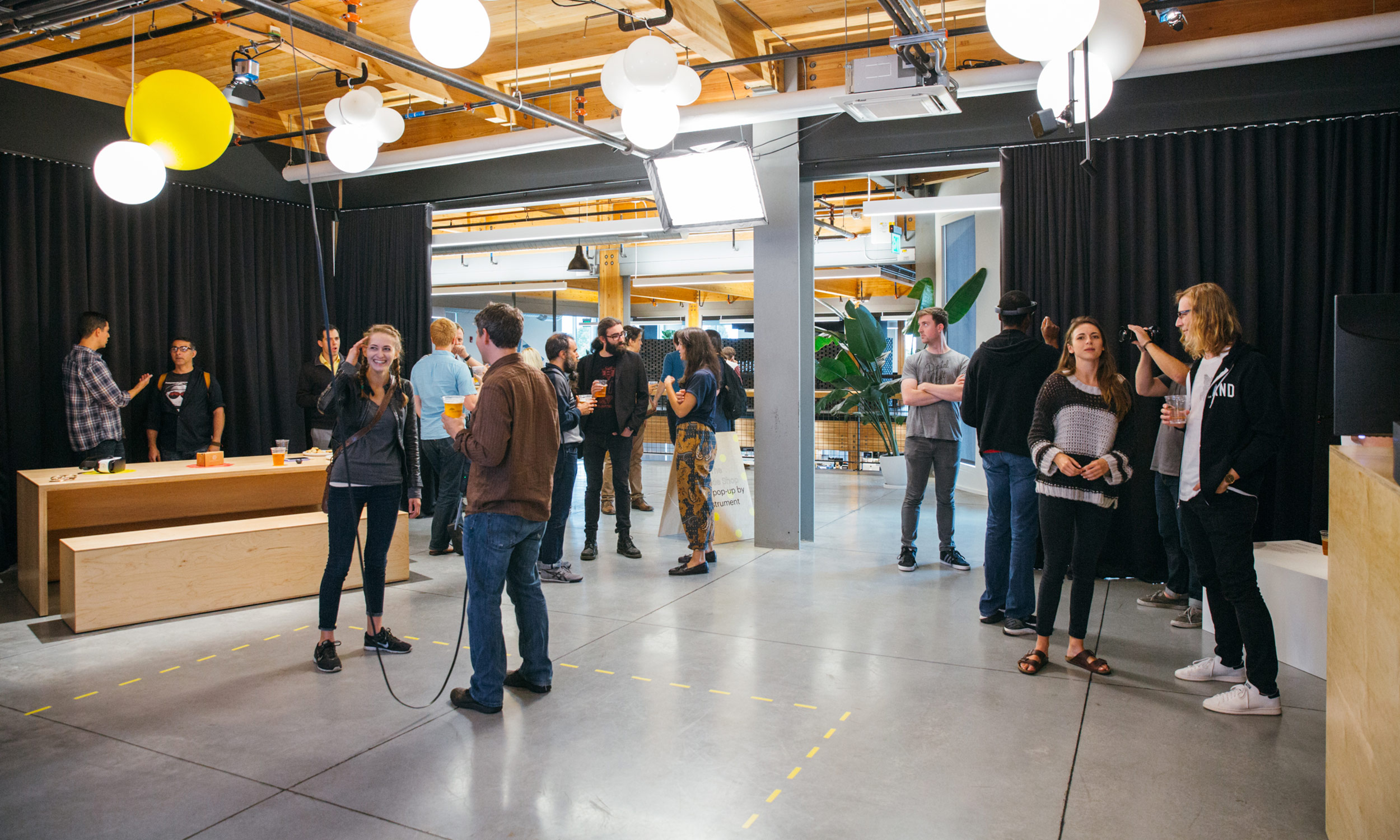 The Cookie Shop Talks
We brought in the pros: Paul Reynolds (formerly of Magic Leap), Kent Bye (Voices of VR), Alysha Naples (formerly of Magic Leap) and Joshua Walton (Microsoft HoloLens), people that have been thinking about the future for years. These Cookie Shop Talks were a chance for us to bring the VR community in (as well as the public) and hear about everything from designing beyond screens in a 3D space to the importance of empathy in creating VR experiences.
Making Moves
We liked the idea of using VR to develop a skill that would apply in the real world, by exploring one aspect deeply rather than attempting to use all the available bells and whistles. Fitness is something we landed on, specifically boxing—as it checked off a few things, from being hand-based (which many new VR devices utilize) to being a way to teach and train simple actions (like punches, jabs and basic moves). We started to think about how virtual reality training could compliment physical training in a gym. The fact that someone halfway across the world could be introduced to a new sport fascinated us.
Meet Shadow
We started doing research, watching tutorial videos, talking to people around town and visiting local boxing gyms. Enter Molly McConnell—two-time world champion and local gym owner. With her help, we made sure our training was accurate in virtual reality and helpful for those who would show up to her gym in real life.
After weeks of training, developing and user testing we could now step into a virtual gym and take lessons from Molly—learning the basic 1-2 combo, slip and counter punch. Players swing at virtual mitts while getting feedback from Molly's voice as well as haptic vibrations custom-built into the device.
What We Learned
Storytelling is a passion and there is no denying VR has the potential to blow the lid off of that. The best thing about it? No one has cracked the formula that will influence all others yet. The only thing we can do is to keep creating. That means you too.
We believe that whether you're a producer, copywriter, designer, strategist or developer you should have some fun the in virtual world. Get lost in Google Tilt Brush for hours on end, mess around with Unity, watch Netflix on your HoloLens, just get your hands dirty.
Thank You
If it wasn't for our friends in the VR/AR/MR community here in Portland, we wouldn't have been able to shape the perspective we have today. Thank you.