NEXT is Google's cloud conference. From the opening video and speaker presentations to conference branding and live demos, we were an integral part of the team that brought the 2016 edition to life.
GCP NEXT was an important milestone for Google Cloud Platform as a business. The conference was a chance to show CTOs and developers what is different about GCP.
A visual framework
Instrument used the GCP logo to create a hexagonal framework and "hidden system" to be utilized behind all conference graphics. In addition to being a beautiful element that we abstracted and transformed, the mark acts as a metaphor for the cloud—a strong, elemental structure that keeps everything stable and moving.
We combined this visual metaphor for the cloud with another metaphor—a musician and their instrument—for the conference's opening video.
We collaborated with Google to build presentations for Sundar Pichai, Diane Greene, Urs Hölzle and Eric Schmidt. In addition to creating slides and transitions for the keynote speakers, we designed merchandise, wall art and helped shape the entire conference floor look and feel in collaboration with other partners.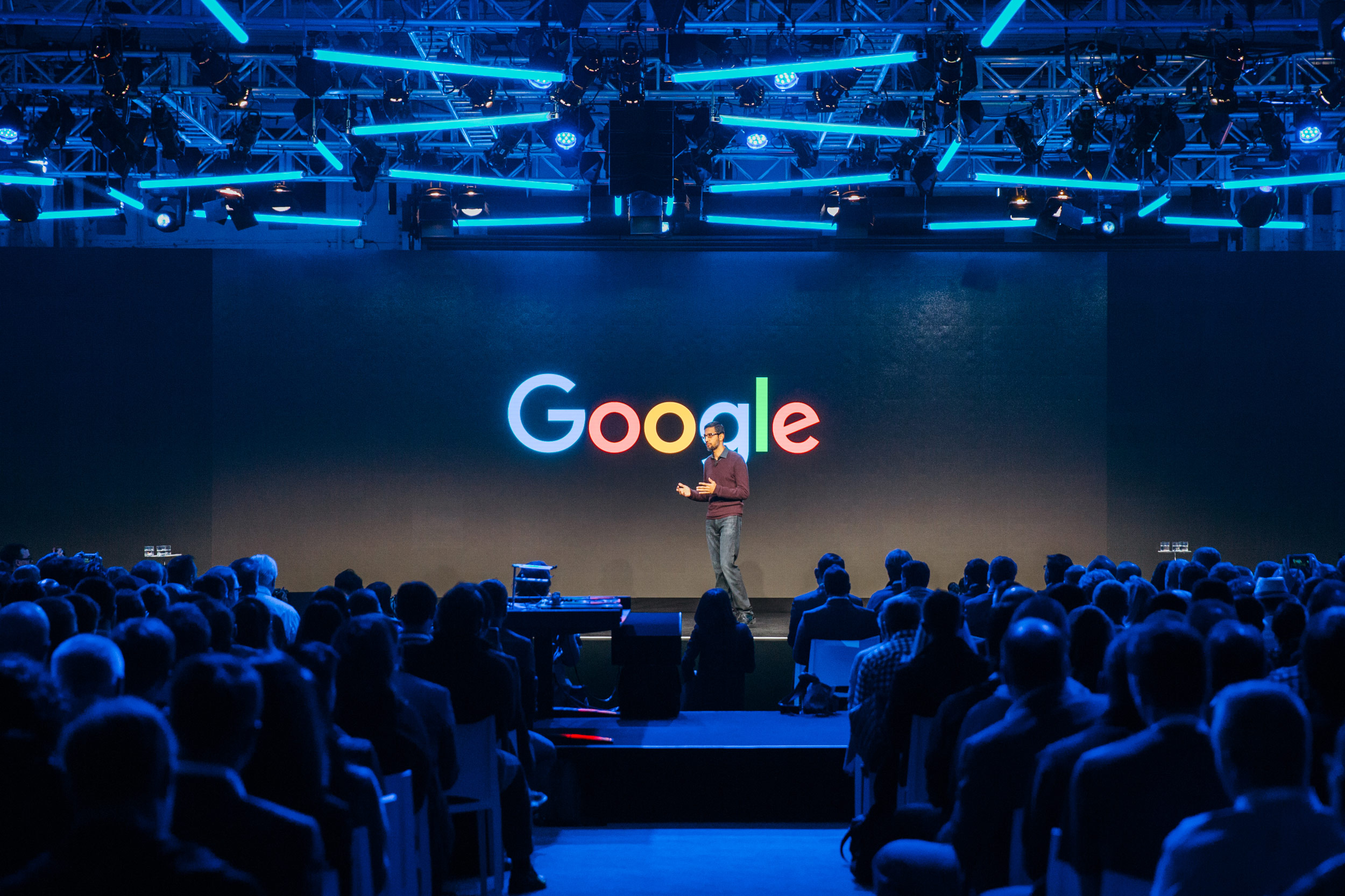 The playground
Google wanted each attendee to experience the power of their Cloud Platform first hand, so we concepted 3 activities in a physical "playground" to showcase Big Query, Cloud Vision API and Google's data centers. It was critical that we used the GCP products in real time, but also that each demonstration was educational, and most of all fun.
Query It!
Query It! is a two-player trivia game that uses the power of BigQuery to source answers from big data. It generates a unique SQL to query huge data sets like Wikipedia, Reddit and GitHub.
Emotobooth
Emotobooth is a photobooth that uses the Cloud Vision API to detect the emotions of participants via their facial expressions. It then assigns color overlays based on its readings. Accompanied with the JSON response, images from the conference were shared via the GCP Twitter feed.
Data Center Theater
The Data Center Theater immersed the viewer in a panoramic view of the highly secure—and largely unseen—data centers. We also outfitted attendees with Cardboard so they could experience the 8 minute VR tour on their own.
Our teams fully executed each experience in the Playground, developing the front and back end, writing copy, designing the user experience and interface as well as establishing branding and wayfinding through the space. These experiences have continued to be featured around the world at various Google events, including the 2016 I/O conference.
NEXT 2016 was a turning point for GCP. It showed Google is serious about its enterprise cloud offerings and gave the audience a personal experience with some of GCP's most game-changing tech.