Jigsaw, formerly Google Ideas, is an incubator within Alphabet that uses technology to tackle tough geopolitical challenges. We helped them build Unfiltered.News, a tool they conceptualized to visualize news coverage from around the world, illuminate new ideas and situations, and positively influence the decisions we make.
Our views are shaped by the information and ideas we're exposed to. Unfortunately, the news we read is often incomplete. Some topics aren't covered at all while others are addressed with important pieces of information excluded. These holes are sometimes the result of regional interests and biases. Sometimes they're a product of more insidious challenges like censorship and government oppression.
The project began with a question: can we increase global empathy by raising awareness of obscure yet important news topics? Jigsaw believes the answer is yes and we helped them create a solution by designing and developing Unfiltered.News.
Less Biased News
While building the tool, it was important to embrace the complexity of global news coverage. Most digital news outlets cover topics that satisfy their user's interests, potentially leaving out important stories that fall outside of that spectrum. Unfiltered News does the opposite—surfacing news without the filter of pleasing a specific audience.
The Unfiltered map highlights the 100 most reported news topics in each of Google News' 132 publisher countries. That means analyzing over 126,000 news sources every day. It was up to us to help users find a functional path through them.
Understanding the Map
The size of each country is determined by its population and news publishing volume. Each color represents a different continent and each country bubble contains a word cloud of the leading news topics sized by popularity. The larger the word, the more popular the topic.
After selecting a topic, the map redraws according to the popularity of that topic within each country. Each countries' word cloud is also re-populated with other relevant subjects. Now users can either read a sampling of headlines or track the topic over time.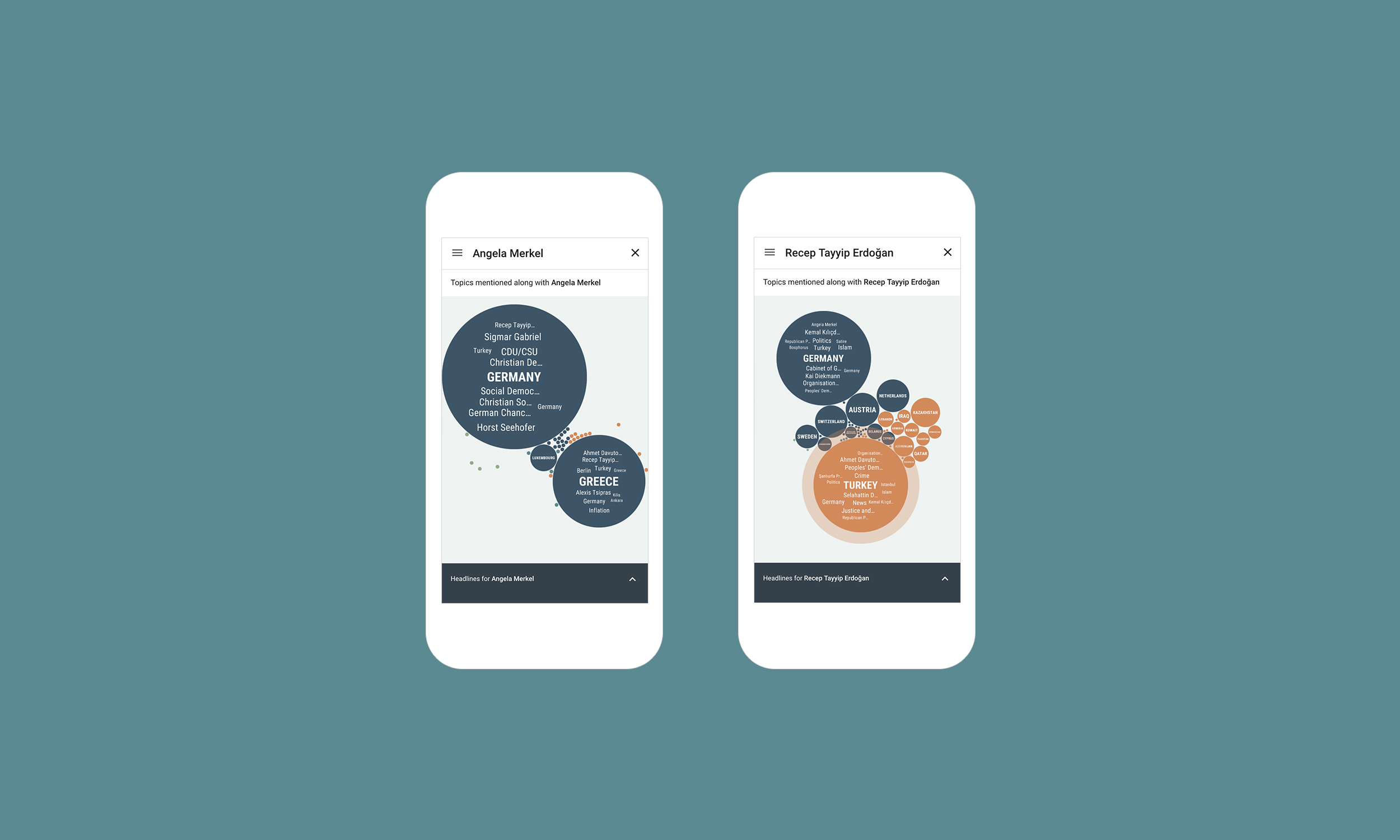 Unfiltered.News is a beta release. It took months of iteration, user testing, and thousands of lines of code to build the initial release, but this is only the beginning. We're excited to continue designing and developing with our partners at Jigsaw to make the experience even better in the next version.